WHEN Jennifer Li took to playing an imaginary piano on the dining-room table when she was just seven, her grandfather asked if she would like to have lessons and an instrument of her own.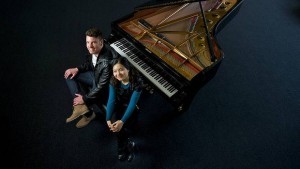 Now, 15 years later, she is about to touch her fingers to the precious ivories of a nine-foot Steinway grand piano from Hamburg worth $240,000.
Li has been practising seven hours a day in the lead-up to the Australian National Piano Award that begins today at the Eastbank Centre in Shepparton.
With a prize pool of $60,000, it is the richest competition of its kind in the country.
The new piano on centre stage is the result of a decade of fundraising by locals to bring world-class music to the rural area. Three leading Australian pianists travelled to Germany to hand select the instrument.
Li, from Oakleigh South, studied at the Victorian College of the Arts secondary school and University of Melbourne before being accepted into the prestigious Eastman School of Music in Rochester, New York.
She will compete against 10 other pianists for the top prize - that includes recording a professional album - with a week of competition climaxing in the grand final on Saturday.
Each competitor will give two 45-minute recitals in the early rounds and then fresh pieces for the finals.
"I'm playing very late in the evening, last actually, so hopefully I will keep myself ready," she said.
Like the other competitors, she has been staying with a host family in Shepparton.
Fellow competitor Ben Austin, from Queensland, said staying with local families gave the competition a "warmer, community-type vibe" that was more supportive than other major awards.
"Today in Shepparton, it's almost all anyone's talking about," he said. "It's still hard work and the preparation is certainly gruelling; the more hours you do the better you play."
He said he was most looking forward to playing the "Rolls Royce" of pianos.
"I've only touched it for five minutes, but it's a dream to play on and we are so lucky."
BY MARIKA DOBBIN
Read more at The Age's website from September 10, 2012.