He's arrived safe and sound, he's looking forward to playing his carefully picked repertoire and he's been in the Award before . . . so he knows what's in store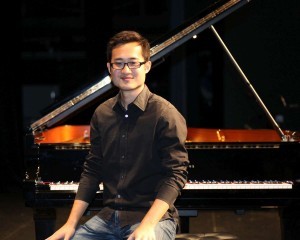 Questions & Answers – Profile
Name: Aaron Liu
Age: 23
When is your birthday? December 24, 1992
Where were your born? Melbourne, Australia
Where do you live this year when in Australia: Forest Lake, Brisbane, QLD
Do you still study & where – when will you finish?
I have recently just graduated from the Queensland Conservatorium of Music in Brisbane.
Are you a full-time professional musician?
It depends on what constitutes the meaning of a full-time professional musician. As hours of practice is needed each day (sometimes up to 8hrs depending on what is being prepared for) just to maintain a pianists requirements.
What drew you to become a musician?
Nothing specific drew me to become a musician. I think it was more or less the passion and love that was instilled over the years and slowly built inside me in myself wanting to become a musician.
Do you sometimes perform in an ensemble?
Yes, I accompany and collaborate with other musicians whenever I can. I think this is very important in being able to work with other instrumentalists other than practicing and performing alone as a soloist. It also benefits my playing, knowledge and understanding of music in general. I will actually be performing the first movement of the Beethoven Triple Concerto (piano, violin, cello) with the Gold Coast Youth Symphony soon on June 19th.
What is so special about the piano and its music?
I think it's special in that every composition written for the piano is a great masterpiece and an amazing work of art. There's just so much emotion encompassed through each composition for the piano and that with this particular instrument it is able to resonate and create these different wonderful sounds, colours and feelings.
What else can you play?
I used to play the clarinet back in primary school
Do you sing? I would like to say so, but probably it's best that it is hear by only my ears. I try to sometimes sing however when I practice to understand how and where the music should flow.
What are you hobbies and why are you passionate about them?
I enjoy playing and watching sport. I have always been active from a young age so playing sport was a good way to burn off all the energy in my body.
Do you do a lot of travel? Where have you been overseas etc?
I would hope to travel a lot more in the future when times permits. I have been to China, Japan, Taiwan, UK and France.
What are your goals over the next two years?
I wish to hopefully further my studies overseas and to continue to become not only a better pianist but a musician. Also, I hope to participate and do well in International Competitions and establish myself as a concert pianist.
Who inspires you and why?
I don't really have anyone that inspires me to be honest. I admire great athletes – with their dedication and determination towards their sport and continuous hard work they have to maintain for many years. I draw this similarly towards being a musician.
Which musician inspires you any why? Again, I don't have a certain musician that inspires me. Every musician has something unique and different to offer which is why music is so special.
Which composer's music do you love and why?
My favourite composer is Chopin. I just love the beauty of his music that is emulated with every note within his compositions. The never ending 'bel canto' that is required and the delicacy and intricacy of his music.
Do you play sports?
Most definitely when I am free. At the moment I do some running.
Name 4 of your favourite things to do:
Playing the piano/listening to music
Play and/or watch sport
Having a drink/ eating with friends (food is life)
And sightseeing when possible
What's your idea of fashion/what do you prefer to wear?
I have no idea or conception as to what fashion should be.
What car do you drive (give a description of it)?
I currently drive mostly in a Honda HRV
How do you relax and unwind from rehearsing?
A nice meal or drink is always good after a rehearsal. If my schedule is more jam packed then a quick nap always does the trick.
How do you care for your back etc. (to stop injuries etc)?
I usually do some push-ups or weights.
Do you love the movies?
I enjoy going to the movies from time to time
List at least three bars / favourite spaces to hang out in Australia and why?
For drinks, usually Cobbler or The Plough (more or less a pub). They just have a nice atmosphere depending on the occasion when out with friends whether it be for a celebration or a drink after uni with friends and colleagues. Another favourite space to hang with my friends is a dessert place called 'Chester Street'. The cakes are amazing!
What is your favourite alcoholic drink?
Usually it'll be a nice cold beer. G&T's are also one of my favs.
Favourite meal / food / fruit and why?
I enjoy all types of food and would at least attempt to try anything once.
Do you compose your own music? Not seriously. Maybe some future endeavours.
What do you hope to get out of this Australian National Piano Award?
I hope to be able to play to the best of my abilities and have the audience appreciate the music and message I want to convey through my playing. I would also hope to meet new friends and catch up with some old ones who are also participating. Also, ideally when entering any competition is to optimistically achieve success.
How long have you been rehearsing for this event?
Due to a number of other commitments and competitions I've only really just started preparing for the competition. I am still yet to finalise my repertoire too however although there's just under 3 months remaining so hopefully that's enough time to prepare.
How did you hear about the Australian National Piano Award?
I participated in the last edition of the ANPA in 2014