Alexander Yau has been rehearsing for two years to get into the Australian National Piano Award. We are looking forward to hearing him perform. He reveals what makes him tick . . . .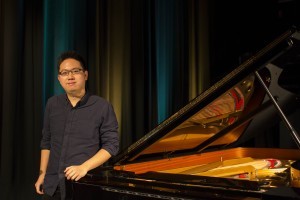 Do you still study & where? I finished my bachelor of music performance in piano in the Sydney Conservatorium of Music
Are you a full-time professional musician?
I do not work full-time as a professional musician but I have given solo recitals in Sydney, Brisbane and several country-side suburbs, as well as Europe, Hong Kong, China, Japan and New Zealand. I am in constant collaboration with my instrumentalists at the Sydney Conservatorium of Music. I have also taught in a small musical institutions.
What drew you to become a musician? My lifetime dedication to music-making in multiple forms and my never ending interest in it.
Do you sometimes perform in an ensemble?
Yes! I played clarinet before, therefore I have performed in wind ensembles and orchestras, as well as piano in the above.
What is so special about the piano and its music? The piano is a unique instrument. The mechanism works as a percussive instrument but the sound produced must be a singing instrument. It can create several sound worlds as well as a full orchestral texture, making its music one of the most complete art form.
What else can you play? I am a competent clarinetist (awarded AMusA with honours), as well as a conductor, composer, music arranger and transcribe.
Do you sing? Yes!! I am a self taught singer, I am a operatic tenor. My singing repertoire comprises German Lied, French Art songs, Operas by Bizet, Gounod, Massenet, Mascagni, Leoncavallo, Verdi, Puccini, Wagner, and many others.
What are your hobbies and why are you passionate about them?
Apart from music, I enjoy bike riding, spending time with friends and sharing stories, travelling and eating. These activities make me a better person and give me inspiration for expressing ideas and emotions through music.
Do you do a lot of travel? Where have you been overseas in the past few years? Yes. Germany, Italy, Finland, japan, New Zealand, Hong Kong
What are your goals over the next two years? I aim to become a consummate musician as well as a professional pianist with the widest range of repertoire and styles of interpretation.
Who inspires you and why? Every human is unique in some ways and always inspire me by the way they act, talk and express ideas.
Which musician inspires you any why? Classical musicians include, Emil Gilels, Artur Rubinstein, Vladimir Horowitz, David Oistrakh, Placido Domingo, Joyce Di donato.
Composers include, Robert and Clara Schumann, Frederic Chopin, Franz Liszt, Beethoven, Verdi
Pop/rock musicians include, Michael Jackson, Jay Chou.
Which composer's music do you love and why? I love all composers' music. I do not like to selective about them. I am learn anything about music from any of them.
Do you play sports? I rarely have the time to do sports. I love bike riding, swimming and table tennis.
What car do you drive? BMW.
How do you relax and unwind from rehearsing? Sing opera.
How do you care for your back etc. (to stop injuries etc)?
I rarely have back problems. Only occasionally small sore back. I go to my friend who gives me advice, through the Alexander Technique.
List at least three bars / favourite spaces to hang out in Australia and why? Sushi Rio at Town Hall, Korean restaurants in general and Darling harbour. The atmospheres in those places are uplifting.
What is your favourite alcoholic drink? Aperol spritz
Do you compose your own music? Yes!
What do you hope to get out of this Australian National Piano Award? The performance experience and exposure. I have been rehearsing for two years for this.
Social Media Links:Instagram Address: https://www.instagram.com/yaualexander/
Sample of performances:https://youtu.be/la5V1_z9zYk (Brahms Piano Concerto no. 2 Op. 83): https://youtu.be/Me_MTGJyHXA (Rachmaninoff Piano Concerto no. 1 Op. 1); https://youtu.be/HtRiA3pE3x8 (Granados El amor y la muerte); https://youtu.be/l6vEqqHfOzI (Franck Violin sonata)