Berta Brozgul's passport is a well-stamped one. Born in South Africa to Ukrainian holocaust survivors, growing up in outer Melbourne and now studying in Austria, the 24-year-old star pianist is used to travelling for her art.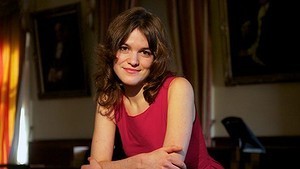 But to take on the biggest challenge of her career so far, she will have to travel to Shepparton, joining 12 other brilliant young musicians competing for the nation's top piano prize.
"I've never been to Shepparton, but I think it will be marvellous," says Brozgul, who will be put up with a local host family for the duration of the piano Olympics. Held every two years, the Australian National Piano Award is a demanding seven-day tournament in which participants are required to perform four recitals, two of which run for more than 90 minutes, with no sheet music. It's been called the "Idol" of the classical world, with total prize money of $65,000.
"Obviously it could be a very important step for me, establishing myself and establishing my reputation. It's a real challenge and a chance to show your complete range as you're required to perform in all styles. It's such a journey to prepare for something like this," says Brozgul, who is presently completing a masters in performance at the Mozarteum in Salzburg.
Brozgul's talents were first nurtured by her piano playing mother, but she is quick to acknowledge that music runs in her blood.
"My father, a holocaust survivor together with many members of his family, escaped capture by Germans in 1941 in the Ukraine. My father's aunts were violinists, and when they fled to Berlin, they played in the Berlin philharmonic orchestra. I think every musician is just born that way, you can definitely see the evidence is in my blood."
Despite this lineage, Brozgul takes nothing for granted. "There are obviously a lot of hours involved when you're preparing for something like this, but it's not just about the time. [It's] more about how physically and mentally engaged you are," she says. "I'm especially apprehensive about Beethoven's Opus 110 sonata and the Chopin B flat minor sonata, just because they're such grand and epic works."
But with the competition looming, the former VCA student is keen not to get too swept away with the desire to win.
"I think ultimately it's not the most important thing. Either way, if I don't get to the semi-final or the final, it's going to be marvellous. Obviously the experience of performing is the main thing. It's always about a personal goal for me and meeting all the other outstanding pianists and adjudicators."
The Australian National Piano Award will take place in Shepparton from September 8 to September 13.
Article from the Saturday Age Newspaper by Bhakthi Puvanenthiran September 05, 2014