Berta Brozgul entered the Award in 2014, she had the flu and is making sure she is as healthy and ready as possible to do her best this time around.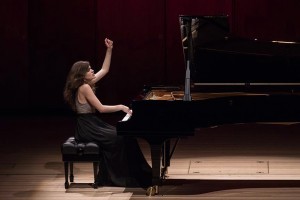 Questions & Answers – Profile
Name: Berta Brozgul
Age: 26
When is your birthday? 22 July 1989
Where were your born? Cape Town, South Africa
Where do you live this year when in Australia: South Melbourne, in a share house
YouTube clips of your performances?
https://www.youtube.com/watch?v=2F7T4RPZfRw
Do you still study & where – when will you finish? Yes, at the Australian National Academy of Music. Probably finishing in 2018
Are you a full-time professional musician? Yes
What drew you to become a musician?
Picking up tunes on my mother's Steinway which she inherited from her father.
Born in Cape Town, South Africa, my earliest musical memory is that of picking out tunes on my mother's Steinway grand piano which she had inherited from her father.
Having loved music ever since, the family immigrated to Australia when I and my twin sister were both 12 years old.
The other side of the musical influence also comes from my father, a Russian immigrant who had previously lived in Australia before meeting my mother in South Africa. His father, as well as many of his relatives were gifted musicians, and although he did not eventually become a professional musician himself, he has always loved music very much too himself.
After having attended the Victorian college of the arts Secondary School, I left to study in Europe when I was 19, and have returned to Australia this year, having completed my master's degree in solo performance at the Mozarteum in Salzburg.
Do you sometimes perform in an ensemble? Yes
What is so special about the piano and its music? Its incredible scope and range, the limitless repertoire and the constant challenge physically and exploration of colour
What else can you play? I used to play the violin
Do you sing? Yes, sometimes in a choir
What are you hobbies and why are you passionate about them?Swimming, family, running, reading.
Mostly doing a lot of things which also fuel my musical passion and mind
Do you do a lot of travel? Where have you been overseas etc?Yes, I am South African born and studied in Austria for 7 years
What are your goals over the next two years? To become the best pianist I can and to put all the new techniques and concepts into practise, which I am learning from my current teacher, Timothy Young
Who inspires you and why? Anybody who has the courage to be unique and who presents new charms and ways of living to me.
Which musician inspires you any why?
Many, but off the top of my head Janine Jansen, Jacqueline du Pre and Marha Argerich because they never cease to amaze and excite me with their extraordinary artistry.
Which composer's music do you love and why? Schumann, Beethoven, due to their forthrightness and directness, range of imagination and constantly reinventing themselves
Do you play sports? Yes, I swim and run
Name 4 of your favourite things to do:Exploring markets with family
Meeting new wonderful people; discovering new things and bettering myself; shopping
What's your idea of fashion/what do you prefer to wear? I am varied but have expensive taste in both casual and formal clothing.
How do you relax and unwind from rehearsing?
Doing lie-downs, watching films etc.
How do you care for your back etc. (to stop injuries etc)? Having massages and swimming to keep the muscles loose
List at least three bars / favourite spaces to hang out in Australia and why?
Melbourne emporium, the wheel of Brisbane
What is your favourite alcoholic drink? Red wine
Favourite meal / food / fruit and why? Vegetarian lasagne because it reminds me of home
What do you hope to get out of this Australian National Piano Award? To continue to reach a new level
How long have you been rehearsing for this event? Since I found out about it
How did you hear about the Australian National Piano Award?
Word of mouth – it's a huge event, and I did it already in 2014 – but got sick during the week. This time I want to do more than pick up where I left off.