At the end of April, the sad news arrived that the Award co-founder and inaugural Artistic Director, Professor Max Cooke OAM had passed away aged 97 years at Cabrini Ashwood, where he lived in aged care for the past two years.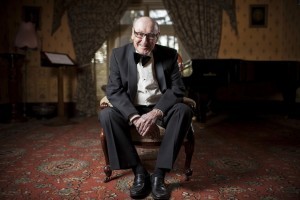 Professor Cooke made an immense contribution to the Australian music scene. He studied piano with Roy Shepherd at the University of Melbourne Conservatorium of Music, before his studies were interrupted by service in World War II as a radio technician in the Royal Australian Air Force.
Between 1949-51, he studied piano with Alfred Cortot and Blanche Bascourret de Gueraldi at the Ecole Normale de Musique in Paris. Following his return to Australia in 1951, his career as a pianist encompassed activity as soloist, chamber musician, concerto soloist as well as four-hands performances with Award co-founder and President, Darryl Coote.
As Senior Lecturer, then Reader in Music at the University of Melbourne where he taught for 67 years, he was involved with training generations of performers and was Dean of the Faculty of Music from 1975-1980, where he defended the Melba Hall from demolition and facilitated the introduction of music therapy courses across Australia.
Throughout the 1960's and 1970's, he was head of the piano committee of the Australian Music Examinations Board and was heavily involved with the Apex Robert Stolz Scholarship and the national Hephzibah Menuhin Memorial Scholarship. He also authored the ground-breaking Tone, Touch and Technique books and DVDs.
Following his retirement at the University of Melbourne, he was appointed Adjunct Professor at Monash University. He was a Fellow of the Australian College of Education; a recipient of the Order of Australia Medal; and a recipient of the Bundesverdienstkreuz (Federal Service Cross, first class) from the Federal Republic of Germany for his contribution to German culture in Australia.
The Award Board and Associates pay tribute to Max with the utmost affection, admiration and respect. He has left a wonderful legacy which showcases some of Australia's most brilliant emerging classical pianists.
Vale — Maxwell Joseph Lorimer Cooke
14 February 1924 — 26 April 2021