Music is his passion, his life, his world. And soon, pianist Daniel De Borah is hoping to add another achievement to a stellar CV.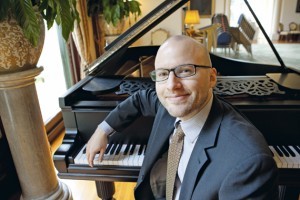 De Borah is one of 12 finalists in the Australian National Piano Award to be held in Shepparton from September 10 to 15.
At 31, he is the oldest of the 12 finalists and one of four to come from Victoria. The others are from Queensland, New South Wales, the ACT and South Australia.
The 12 musicians vying for the top honour will share $60,000 in cash and prizes.
The award, held every two years, is considered Australia's premier piano competition, attracting top-rate musicians, international judges, music lovers and high-profile supporters.
It was conceived 20 years ago by the small but passionate arts community in Shepparton. With the help of arts patron Dame Elisabeth Murdoch and other sponsors and patrons, the idea flourished and the competition was born after the purchase of a $240,000 Steinway grand piano.
"I haven't done a competition for five years,"
De Borah says. "Competitions are a means of challenging yourself. If you do well, it boosts your profile. It's not a goal in itself. My goal is a life in music. I don't know any different."
For De Borah, becoming a musician was pretty much fulfilling his destiny. Hardly unexpected for someone immersed in music from birth and whose parents are themselves highly acclaimed musicians.
His mother, Anna De Borah, a respected piano teacher for young children, was his first teacher. His father, Vernon Hill, is one of Australia's most renowned flautists and formerly the head of the wind department at the
Australian National University's school of music.
De Borah, who changed his name from Hill, is at pains to point out that his parents would have encouraged him in any career he chose.
"I actually begged my mother to start teaching me," he recalls at a morning tea at Government House. The Governor of Victoria, Alex Chernov, has just announced the 12 finalists in the Australian National Piano Award, to the warm applause of an audience of sponsors, music lovers, some of the finalists and their families.
The winner of the 2010 award, Jocelyn Ho, flew in from New York for the launch announcement. Since she won the award Ho has released her first album, been included in the Who's Who of Australian Women 2012 and recognised as a Young Steinway Artist.
De Borah is seated on a gold brocade chaise in the Government House drawing room, a cup of tea balanced on one knee. He passes on the tomato sandwich but relishes the meringue-topped lemon curd tart, the crumbs falling onto his trousers.
"The first piece I learnt was a simplified version of Twinkle Twinkle Little Star," he says.
"By the time I finished my tertiary education, I'd been playing for 19 years.
"Thirteen of those were in full-time piano studios, with four to six hours practice a day," he says.
De Borah was born in Melbourne but his family moved to Canberra when he was young. When he was 10 his mother took him to Budapest to study at the Liszt Academy of Music.
He spent six years in Britain and at 17 went to Russia. He has won several national and international awards, including the 2004 Sydney International Piano Competition and the 2007 Royal Overseas League Music Competition. His teachers have included Zsuzsa Eszto, Nina Seryogina, Tatyana Sarkissova and Alexander Satz.
De Borah is a true internationalist. He speaks Russian, English and French yet feels very much an Australian and loves nothing more than a visit to Baker D. Chirico, a St Kilda eatery.
His is a musical household. His partner plays the violin in Orchestra Victoria.
Like other freelance professional pianists, he does not have the option of being a full-time member of an orchestra.
"Typically pianists look for a teaching position,"
De Borah says. "At the moment I am enjoying the freedom of being able to 'concertise'."
De Borah spent the first two months of the year in Britain where he performed at London's Barbican Centre, among other venues, before returning for a national tour with the Australian String Quartet, a gig with Orchestra Victoria at the National Gallery of Victoria and then the Canberra International Music Festival.
In between performances are countless hours of practice, with more practice coming up for the forthcoming competition.
"There is so much wonderful music for piano. Brahms's second piano concerto is a favourite and, of course, anything by Mozart. If I leave one out I feel I'm being unfair on the others. Bach, Mozart, Chopin, Schumann, Prokofiev, Brahms: they are all wonderful," he says.
BY MARIA HARRIS
As published on the Weekly Review.