What do you hope to get out of this Australian National Piano Award? I'm just going to enjoy myself and share my music with the wonderful community in Shepparton.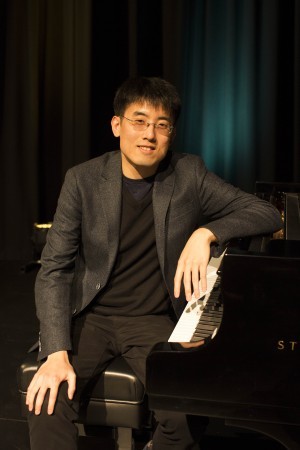 Are you a full-time professional musician? I'm currently freelancing, I have some teaching commitments plus unconfirmed performances later in the year.
What drew you to become a musician? I watched the Chopin piano competition on TV when I was in primary school. Inspired me to pursue a musical career.
Do you sometimes perform in an ensemble? Yes – duos actually. The last two years in England I have done a lot of duo work with string players.
What is so special about the piano and its music? The piano is so unique and able to express such a wide range of colour and sound.
What else can you play? I learnt violin and clarinet for a few years in primary school. Decided to focus on piano so I discontinued.
Do you sing? No.
What are your hobbies and why are you passionate about them?
I'm a foodie, I love all cuisines especially Asian, Indian.
Do you do a lot of travel? Where have you been overseas in the past few years? I travelled a fair bit in my student days, including to – New York, London, Paris, Italy, Tokyo, Seoul, China, Singapore and New Zealand.
What are your goals over the next two years? I'm considering further studies. Also looking to set up my teaching studio, and would be nice to get work / performance opportunities around Australia and maybe overseas.
Which musician inspires you any why? Fazil Say, Turkish pianist – his individuality, vitality and expression is so refreshing and he is not afraid to step outside the box, stylistically speaking.
Which composer's music do you love and why? Anything that's not overly atonal. Generally Romantic composers. And French music - Debussy and Ravel.
Do you play sports? Yes tennis.
Name 4 of your favourite things to do to chill out/have fun: Crime dramas. Casual tennis with family. Game shows. Cooking.
What's your idea of fashion/what do you prefer to wear? Depends on the season. Stylish European attire in winter and just anything casual and comfortable in the warmer months.
How do you relax and unwind from rehearsing? Food!
How do you care for your back etc. (to stop injuries etc)? Rest is important. I structure my practice sessions into blocks and never do more than a couple hours in a sitting.
Do you love the movies? Not a movie buff but I enjoy.
List at least three bars / favourite spaces to hang out in Australia and why? Nowhere specific comes to mind but generally anywhere green/natural/quiet away from the bustle of modern living. Parks, museums so forth.
What is your favourite alcoholic drink? Singapore Sling
Favourite meal / food / fruit and why? Nothing beats KFC hot and spicy. Best comfort food. Can't go wrong.
Do you compose your own music? Not really, apart from writing cadenzas to concertos.
How long have you been rehearsing for this event? Since late last year.
Have you had any media interview experience? I have done interviews for ABC Classic FM and TV, and other media activities in competitions and festivals.
How did you hear about the Australian National Piano Award? A brochure in my university originally. I was in it in 2016 and couldn't wait to come back.