He was born in China, but has been living in Queensland for many years (apart from when he is travelling). He has just returned from the U.K. to make it to Shepparton. And he gets regular cravings for Kentucky Fried Chicken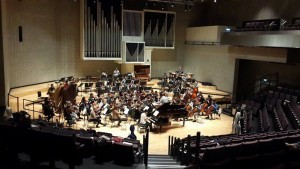 Questions & Answers – Profile
Name: Oliver She (pronounced 'Shay')
Age: 25
When is your birthday? 31/01/1991
Where were your born? China
Where do you live this year when in Australia: Forest Lake, QLD – with family
Do you still study & where – when will you finish?
I completed postgraduate studies last year at RNCM in Manchester.
Are you a full-time professional musician? Currently I'm appointed as a Junior Fellow in accompaniment at the RNCM.
What drew you to become a musician? The ability to take pleasure in what I do and enrich the experiences of others.
Do you sometimes perform in an ensemble? Yes, I have performed extensively in instrumental duos, especially with string players.
What is so special about the piano and its music? There are so many possibilities on the piano, given its vast physical and sonic range. The huge amount of repertoire written for the instrument offers endless opportunities for exploration.
What else can you play?
I did violin for two years in early primary school and clarinet also for two years in the school band in Years 5 and 6.
What are you hobbies and why are you passionate about them? Plane enthusiast - I love flying/travelling.
Do you do a lot of travel? Where have you been overseas etc? A fair bit in the last few years – I've done competitions in Korea and Japan, summer courses in Europe, and travelled with friends/family to USA, France, Italy and Singapore.
What are your goals over the next two years? I am hoping to continue my accompanist appointment at RNCM and to take part in competitions and performance opportunities in the UK.
Who inspires you and why? People who are different, and who make a difference to the world by making it a more interesting place.
Which musician inspires you any why? Those who are individualistic in their musical approach i.e. Vladimir Horowitz, Glenn Gould – they bring interesting new ways of interpreting music.
Which composer's music do you love and why? Rachmaninoff – pretty self explanatory really (the big tunes and luscious romanticism never fail to impress).
Do you play sports? I don't consider myself a very sporty person.
Name 4 of your favourite things to do:
Eating
Watching videos
Road trips
Playing piano for enjoyment
What's your idea of fashion/what do you prefer to wear? Anything comfortable will do.
What car do you drive (give a description of it)? I don't own a vehicle at the moment.
How do you relax and unwind from rehearsing? Watch a film or do some outdoor activity.
How do you care for your back etc. (to stop injuries etc)? I usually prefer chairs with a backrest rather than piano stools when I'm rehearsing/practising.
Do you love the movies? Very much so.
List at least three bars / favourite spaces to hang out in Australia and why?
KFC outlets
Buffets
Sunnybank, Brisbane – all the amazing Asian food
What is your favourite alcoholic drink? I don't drink alcohol – the closest I've done is a cocktail.
Favourite meal / food / fruit and why?
KFC takeaway – especially after a long day and when I'm too tired to cook.
Do you compose your own music? Not really
What do you hope to get out of this Australian National Piano Award?
I hope I can bring back what I have gained as a musician while overseas and share these with Shepparton audiences.
How long have you been rehearsing for this event? The good part of this year.
Have you had any media interview experience? Yes I have done various media/promotional activities in the past (e.g. ABC Young Performers Awards).
How did you hear about the Australian National Piano Award? My former teacher in Brisbane.