Peter de Jager is from Melbourne and during the Award he will be performing an Australian composer who is still alive and also happens to be a dear friend.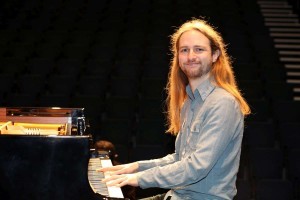 Questions & Answers – Profile
Name?
Peter de Jager (J like a Y, rhymes with Lager)
Age?
26
When is your birthday?
1st December 1989
Where were your born?
Johannesburg, South Africa
Where do you live this year when in Australia?
In Preston, in Melbourne's North.
YouTube clips of your performances?
Do you still study and where – when will you finish?
I no longer study. Was a student at ANAM 2007-2008, then finished a UniMelb Bachelor in composition in 2012.
Are you a full-time professional musician?
I am.
What drew you to become a musician?
It was just an early obsession with the piano. At a certain point it just seems easiest to continue and try to make a career out of it.
Do you sometimes perform in an ensemble?
I have performed in a few ensembles who no longer play together - the lieder/cabaret group Aria Co., and the contemporary quartet Cathexis. I occasionally perform with Inventi ensemble (flute/oboe/piano). I also play with the MSO and OV. And occasionally get to play in chamber ensembles as part of my work as Associate Faculty at the Australian National Academy of Music.
What is so special about the piano and its music?
There is of course wonderful repertoire for every genre, but the piano is special to me in that it is self-sufficient, a complete texture is achievable by a single person. Also it can play more notes simultaneously than most other instruments.
What else can you play?
Other keyboards: Harpsichord, Fortepiano.
Do you sing?
I have done a very small amount of singing in choirs and out of an interest in Musicals, although I have never been in the cast of a show.
What are you hobbies and why are you passionate about them?
I used to do Tai Chi quite seriously, but don't have much time for it any more. It is very physically demanding at a high level, and requires great precision. The physical principles involved translate to any other physical activity, including piano, and the meditative aspect is a very useful one in keeping a calm outlook in the rest of one's life.
Other interests include Maths/Science, Video Games, Poetry, Modern Art, String Figures.
Do you do a lot of travel? Where have you been overseas etc?
I have only really travelled for music reasons, been to festivals in Switzerland and the US. Went to China years ago for a Tai Chi training holiday. Went to visit family in South Africa in 2014, which was a very interesting experience.
What are your goals over the next two years?
Keep working and saving money! There's a lot of music I plan to write as well, so I'll keep plugging away at that.
Who inspires you and why?
There are many people - I admire anyone who is a truly original thinker. It hard to go past Elon Musk - he has set some extraordinary things in motion. Richard Feynman (physicist) had an amazing way of thinking about the world, and was a completely unpretentious person as well. In the cultural sphere, there is a Swedish game designer named Nicklas Nygren (known as Nifflas) whose games I find very beautiful and mysterious. And Andrew Hussie, creator of the sprawling webcomic Homestuck, which while I haven't really kept up with it through its long creation process, is certainly an astonishing literary and artistic phenomenon.
Which musician inspires you any why?
Again many - Brett Dean, Stephen Hough, Michael Kieren Harvey, Geoffrey Lancaster, many of my friends and colleagues. But a particular touchstone for me is Rachmaninoff - not only a favourite composer, but I feel that there is no pianist I'm aware of living now who comes close to the all-round musicianship of that generation.
Which composer's music do you love and why?
Rachmaninoff, Medtner and Scriabin, certainly. There's something passionate and serious about Russian music that speaks to me very deeply. I'm very interested in Szymanowski at the moment, so many images and colours! And my friend Chris Dench writes wonderful intricate and elegant music combining Scriabin-esque harmonies with a more modernist approach to gesture and texture, while also being influenced by early music, particularly the French Baroque.
Do you play sports?
Not currently, although Tai Chi would count.
Name 4 of your favourite things to do:
Eat at nice restaurants with stimulating companions
Take long walks
Watch YouTube videos
Sleep
What's your idea of fashion/what do you prefer to wear?
I think clothes are far too expensive, and I prefer to spend my money on food.
Having said that, I have a weakness for paisley.
How do you relax and unwind from rehearsing?
Lie in bed with the internet.
How do you care for your back etc. (to stop injuries etc)?
Nothing in particular. I try and have good posture and not sit in awkward positions if I can help it.
List at least three bars / favourite spaces to hang out in Australia and why?
Anywhere with a nice atmosphere and cheap drinks is fine. Expensive drinks are fine too, as long as they're good.
What is your favourite alcoholic drink?
I have a particular fondness for Whisky, but following close behind are red wine, sake, and tequila.
Favourite meal / food / fruit and why?
Can't go past a good burger!
Do you compose your own music?
I do.
What do you hope to get out of this Australian National Piano Award?
It should be a great opportunity to perform for an appreciative audience, and to get to know my colleagues a bit better. Money would be nice too.
How did you hear about the Australian National Piano Award?
It is impossible not to hear about it, as a pianist.