I am very excited about being selected for this Award – I hope to use it as an opportunity to play my best and present a variety of both familiar and lesser known repertoire to the audience and the judges. I look forward to meeting the other pianists and the renowned judges.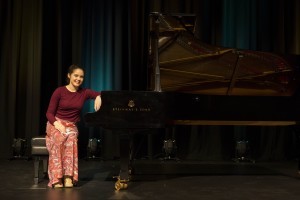 Are you a full-time professional musician? Yes
Do you still study & where – when will you finish? Queensland Conservatorium Griffith University studying for a Masters of Music Research, expected completion November this year.
What drew you to become a musician? I was brought up in a musical household – both my parents were very supportive of classical music and the arts in general. My mum used to play piano so she would practise when I was supposed to be having 'nap time' but I wouldn't sleep I would just try and listen to her play!
Do you sometimes perform in an ensemble? I don't have a fixed ensemble, but I enjoy doing a lot of instrumental, choral and vocal accompaniment. I have also done quite a bit of piano duo/duet work in the past.
What is so special about the piano and its music? I think the piano is truly the King of modern instruments – it has the breadth and versatility to create so many different colours and sounds. Plus there is so much repertoire written for the piano, you could never possibly run out of pieces to play!
What else can you play? I also play organ and violin – I achieved my AMus in violin.
Do you sing? Yes – I particularly enjoy singing Gregorian Chant and Renaissance polyphony!
What are your hobbies and why are you passionate about them? I love to read books of all different genres – it's so interesting to read how others make sense of the world, both through novels and biographical/philosophical writings. There is so much literature to discover which helps us to form our character, develop empathy and perspective, and often to inform us on all sorts of topics! I am currently reading 'Musicophilia' by Oliver Sacks.
Do you do a lot of travel? Where have you been overseas in the past few years? Yes I love to travel – I went with my family to Rome around Christmas/New Year 2016 and that was an amazing experience. I still think about it most days and reminisce over the photos! It was our first Europe trip and we can't wait to go back! Hopefully Florence early next year…
I have also been to Japan (for the Hamamatsu International Piano Academy) and recently to Moscow for the Moscow Conservatory International Winter School. Moscow is another culturally rich destination, and the standard of the music performed there is outstandingly high.
What are your goals over the next two years? I hope to finish my Masters this year and then go overseas to undertake my PhD in Music. I am very interested not just in performing, but also in research and how this can inform my practice and ultimately make me a better musician. Sometimes it's tough balancing the piano practice with research of writing about my practice, but in the end it helps! I would like to go to the UK for my PhD, and in the meantime I plan to give many recitals and maybe attend a few summer schools next year in order to prepare me for the cutthroat competitive music world overseas!
Who inspires you and why? It's mainly the musicians below:
Which musician inspires you any why? I have a few musicians who inspire me: first of all my teacher Natasha Vlassenko – she inspires me every week to reach new heights. Everything she demonstrates and suggests to me immediately seems so logical but also innovative. She always demands the highest artistry of me, something I am still working to achieve! I have been learning from her for six years now, and I have learnt a huge amount about technique and the intricacies of musicality at the piano.
I also look up to three international pianists: Vladimir Ashkenazy, Alice Sara Ott and Angela Hewitt. I have been listening to Ashkenazy's recordings since I was a child, and I always have found that his playing demonstrates great surety and he has an astonishing command over any repertoire he plays.
Alice Sara Ott is a young German-Japanese pianist who I always find so exciting to watch (on Youtube!). Her first recording with Deutsche Grammophon was the complete Liszt Transcendental Etudes and she has just kept producing polished and musically unique recordings. She has also collaborated with Olafur Arnalds recently to produce an album called 'The Chopin Project'. It combines Chopin with Arnalds' recompositions under the lens of experimental recording techniques in more 'unconventional' classical recording spaces to produce a wonderfully intimate storyline of an album.
Last year, I was very fortunate to have a masterclass with Angela Hewitt and watch her give a recital the next day at the Queensland Conservatorium. Her performance was breathtaking, and of course she played some Bach, Scarlatti and also the Ravel Sonatine. She was able to engage the audience with her elegance, prowess, and the seemingly unending spectrum of colours she created on the instrument. I have her recent recording of the Goldberg Variations which I treasure!
Which composer's music do you love and why? I love the music of the giants, Bach and Beethoven especially. I have been listening to more choral and organ music by Bach recently, and every time I am astounded by his compositions. And then to be neglected for so many years after his death!
Beethoven was a skilful innovator and I find that his music has so much depth and emotional passion but still sticks to such concrete structure and forms that he developed.
Do you play sports? No…I think I exert myself physically with all the practice! Although I have just discovered rock climbing which I find a very rewarding form of exercise!
Name 4 of your favourite things to do to chill out/have fun: Read. Watch movies. Eat good food. Jigsaw puzzles.
What's your idea of fashion/what do you prefer to wear? I'm not too much of a fashionista… I guess I wear more 'modest' clothes but I really just buy whatever is on sale! Whatever works practically and isn't too jarring on the eyes! I don't enjoy shopping so I'm probably not up to the date with the fashions.
What car do you drive (give a description of it). do you have a current drivers licence? I don't have my licence yet – there has been no time to do those 100 hours!
How do you relax and unwind from rehearsing? Mostly by going to a café and having a cup of tea! After a mental debrief of what just happened and what needs to be done, I try to think about things that are unrelated and enjoy being in the fresh air.
How do you care for your back etc. (to stop injuries etc)? I don't have any specific injury prevention practices, but I am wary of over-exerting myself both in my practice and in other activities that could be risky for piano players. I just make sure that I stop practising immediately if I ever feel any pain and massage the source of tension. I have never had any serious playing-related injuries so I hope I will be ok!
I do try and have a massage once every 6 months/12 months just to get the knots out.
Do you love the movies? Yes I do! I haven't been much recently because I have been very busy but I love going (especially on Tuesdays!) and watching what's out! I really enjoy all the superhero movies and I can't stand romance movies…
List at least three bars / favourite spaces to hang out in Australia and why? I don't really go to bars/pubs/clubs so I wouldn't know…I much prefer libraries. When the atmosphere is conducive, it's so much easier to get work done! The State Library of NSW would be the ideal place for me, but I also like the State Library of Queensland – the work spaces overlook the Brisbane River.
What is your favourite alcoholic drink? I'm not very experienced in alcohol but I like Rose and Moscato – I have a sweet tooth!
Favourite meal / food / fruit and why? Any hot curry is amazing, or the Malaysian dish Nasi Lemak – my mum is Malaysian so she cooks it the best!
Do you compose your own music? I used to write a few things down in my childhood, but I haven't done much recently. I have written down some short improvisations based on Gregorian Chant themes though.
How long have you been rehearsing for this event? The pieces that I will be using have mostly been in my repertoire for 1-3 years.
How did you hear about the Australian National Piano Award? I have some acquaintances who were previously competed in this, and they have all given great feedback about it.