Queensland music student Alex Raineri produced a stunning performance at Shepparton's Eastbank Centre to place first in the Australian National Piano Award.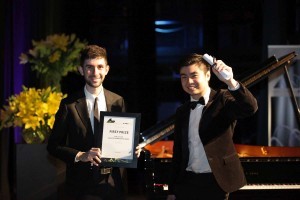 A 21-year-old graduate music student from Queensland won the prestigious 12th biennial Australian National Piano Award first prize announced in Shepparton on Saturday night.
Alex Raineri and two other finalists, Daniel Le and John Fisher, performed to an audience of about 300 people, including Victoria's governor Alex Chernov, at Eastbank Centre.
Mr Raineri's $25000 prize included $20000 from Greater Shepparton City Council, plus $5000 for further music career development from The Daphne and Ross Turnbull Bursary.
His winning performance included pieces by Beethoven, Brahms and modern composers, including a stunning recital of Carl Vine's Five Bagatelles, Darkly.
Mr Raineri, who said he liked to relax with a drink and good friends when not playing the piano, described Saturday's award as ''an honour and a privilege''.
''It's been a huge week for all of us and I'm really thrilled to be standing here,'' Mr Raineri said.
Thirteen young pianists performed 34 recitals at Eastbank last week in the lead-up to Saturday night's final.
Second prize went to Daniel Le, 21, from Melbourne, who won $13000.
Third prize of $7000 was won by London-based John Fisher, 29, from Brisbane.
The performances were recorded by ABC Radio Classic FM and broadcast yesterday.
Organisers said a limited edition CD recording of Saturday night's highlights would be produced.