What drew you to become a musician? When I was young, my mother allowed me to try a lot of different things but the one I enjoyed the most and seemed to resonate was to make music with the piano - spending your life doing what you love, which is also your profession - there is nothing better than that!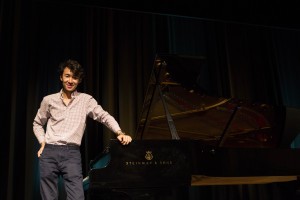 Where were your born? Kanagawa, Japan. I live in Riverview in Sydney
Do you still study? I study at the Hochschule für Musik und Tanz in Cologne, Germany and I will finish my Masters in Piano Solo here in September of 2019. I would like to continue studying here and undertake a Masters in New Music afterwards.
Are you a full-time professional musician? It is hard to define exactly what a full-time professional musician is, but yes - as I dedicate all my time to music making, including practice, performances and chamber music.
Do you sometimes perform in an ensemble? Yes, I think performing with an ensemble/chamber group is 100% essential in becoming a true musician. One cannot possibly grow as a musician without the process of working with other musicians and learning from each other's knowledge. I am currently working with 4 Duos with various instrumentalists, 3 trios (violin, saxophone, piano (Nexus Trio)/2 saxophones and piano (Aeris Trio)/and the traditional violin, cello and piano) and a piano quartet! I will be performing in Paris with one of my Duos in June and in Slovenia with my Saxophone trio in September which is very exciting. Sometimes I find it more fun to rehearse with other musicians than to be practising alone – especially when you are in a music school with musicians from all over the world, there is always so much to learn and experience!
What is so special about the piano and its music? Here I must repeat what Anton Rubinstein says about the piano: "You think it's one instrument? It is a hundred instruments!" The piano can really be any instrument you want it to be, if you have the awareness, imagination and the facility for it. Of course, only the greatest pianists can achieve this but it is one of things I find special about the piano-the endless possibilities of tone colour. Also, so vast amount of repertoire for piano is overwhelming (in a good way) and there are so many brilliant composers who wrote for the piano which no one performs…I often like to look past the standard oeuvre and find works by composers that are unknown to many. You can never run out of pieces to play with the piano!
What else can you play? I also play the trumpet. I started to learn in year 3 in my primary school band and continued to play till the end of high school. However, since I have not touched my trumpet for a couple of years now, I definitely cannot play as well as I used to! I also think playing another instrument/in an orchestra helps you develop as a musician and pianist because you learn to work with others, follow a conductor and discover the possibilities of character and tone colour of other instruments. A great thing about playing in an orchestra is that you get to travel a lot with the orchestra to various places. My most memorable orchestra performance was Pictures at an Exhibition by Mussorgsky with the Sydney Conservatorium High School Symphony Orchestra in 2012.
Do you sing? I do love to sing; however, I sing less recently than I used to a couple of years ago. I also think singing (anything from nursery rhymes, pop songs and singing in choir) really makes a difference to how one plays the piano and potentially any other instrument. Since the piano is naturally a percussive instrument, our goal is to make the instrument 'sing' and after singing myself, I believe it is one element that can help one achieve that 'golden tone' from the piano. I used to make covers of Japanese pop songs but now I find it very hard to find the time to do this.
What are your hobbies and why are you passionate about them? I have several hobbies and I will go through them one by one… The first is car modification – I love to fiddle with the electronics and sometimes mechanical aspects of the car and to make my car unique! I have bought god knows how many parts and accessories for my car from Japan...! I am passionate about it because I believe each car has its own 'soul' and if you take care of it and make it feel special they will also in turn protect you and stay with you for a long time. Sometime I feel I can 'hear' the heart of each car when it drives past me or if I am a passenger, I can tell if it has been taken care of or not.
Second is perfume collecting. I am still not sure how I got into this but I think I have a very sensitive sense of smell and in turn this got me interested in perfumes. I have over 80 bottles in a glass cabinet at home…I think perfumes are interesting because you can relate scents with memories, for example when I wear "Dior Homme Intense" it reminds me of a Christmas holiday in Japan because which is when I most wore this particular perfume.

Lastly is gardening. This is the most recent hobby and one that I most miss right now because I don't have a garden in my little apartment in Germany. Gardening is great because you see the plant grow and develop and each plant has its likes and dislikes, like the amount of sun, water and 'attention'. In Sydney I like to do gardening in between my practise and it would make me feel relaxed and refreshed, or I would just go sit on a bench and look at my plants! The only negative thing about these hobbies is that they are very expensive hobbies!
Do you do a lot of travel? Where have you been overseas in the past few years? Yes, who doesn't like to travel! Since I love planes and airports it is a pleasure for me to travel. Apart from travelling back and forth from Australia and Germany I have travelled to Japan, Austria, Denmark, France, Malaysia, Switzerland, Thailand and Netherlands…mostly for music!
What are your goals over the next two years? I made the decision to leave Australia for a couple of years before I return because I wanted to fulfil my goals and gain experience and knowledge somewhere different to my home country. Apart from gaining experience and knowledge as an all rounded classical musician, my main goal here in Europe is precisely to make many connections with living composers and to collaborate with them in performing and being the interpreter of new works. There is a fantastic Contemporary music scene here in Köln and is the perfect place for me to realise this goal as I am passionate about performing New music. I believe I developed a passion for Contemporary/New music as my teacher (Daniel Herscovitch) at the Conservatorium promoted many brilliant new works by Australian and composers from outside Australia. I love to play works by composers that are not heard very much and make the audience curious about composers they have not heard before. I made connections with many composers at the Sydney Conservatorium leading to some performances and recordings of works by these upcoming student composers. In 2016, for my Honours Recital, I worked with Australian composer Gerard Brophy, towards a performance of two of his works 'Gheranos' (1980) and 'What really happened' (2014) and lead a research group which introduced the two works and Brophy himself to pianists of the Sydney Conservatorium. I really enjoy working with composers and experimenting with new techniques and ideas, and it made me realise how important a musician is for a composer as we are the ones who must 'sell' the music to the audience and bring out the best in these new works. I have already begun realising my goals as I am currently working towards a recording of a two-piano work by a composer from Uruguay which involves detuning the strings to perform in Italy and will hopefully attend a contemporary music seminar in Brazil later this year.
As mentioned before, I wish to continue this road and if all goes well undertake a Master's Degree specialising in New Music, after completing my Master degree in Performance. I would love to participate in Contemporary Music Festivals like the Donaueschingen Festival here in Germany and the ISCM World Music Days festival. It is my dream to become the 'interpreter' for a great composer of the 21st century like how Pierre Laurant Aimard was for Gyorgy Ligeti or even Arthur Rubinstein for Chopin.
Although that is my main goal for the next couple of years, while I am in Europe I will participate in many Masterclasses and International Competitions as everything is in reach from Germany and extensively play chamber music with instrumentalists from all around the world to make friends and broaden my views towards Classical Music. Also, I wish to perform and promote more Australian music in the European Stage so that music by Australian composers which I respect very much, can be more recognised in Europe. These goals are already in progress. Although my main goal is new music focused I believe it is important for an interpreter of new music to be an all rounded musician because everything in the present comes from the past. Finally, after I have fulfilled my goals here in Europe, I wish to base myself in Australia and continue with my passions by collaborating with Australian composers and performing these works in Europe and vice versa as an Australian pianist.
Who inspires you and why? This may be vague and confusing…but I must say I take inspiration from those who support me, and the people and things I encounter in my daily life. Those who support me like family, friends and teachers give me experience, energy and encouragement which turn into inspiration for me. The things and people I encounter on my way to school or during a concert, are meant to be and if you keep your eye open, there are many things one can take inspiration from.
Which musician inspires you any why? My favourite performer is Sviatoslav Richter. He brings out an unimaginable temperament and an incredible spirit in his rendition which is unique to his performances. For example, my favourites being his interpretation of Rachmaninov's Prelude in B flat Major, Op 23 No 2, and the 1958 live recording of Schubert's C minor Sonata D. 958 – 4th Movement. Also, Grigory Sokolov – his tender and pure performances make my heart float into the heavens. Listening to them makes me want to work harder at the piano and gives me energy!
Which composer's music do you love and why? This is always a very hard question because for me, I have several composers that I admire greatly, but they are always on rotation so they always get a go at being my favourite! However right now my favourite would be Mr. Franz Schubert. His music gives me confidence and makes me feel like I can conquer the world when I listen, practise and perform his music. Another on my list is Alexander Scriabin, his music never fails to give me goose bumps while making me feel warm at the same time…it is truly an interesting sensation. I also adore our own Australian composer, Carl Vine. I feel connected to his music and would one day love to record his complete piano works!
Do you play sports? I don't play any sports right now but once every week I go jogging for about half an hour. I sometimes play soccer with some colleagues from the music school but this doesn't happen so often. Sport is great but I think for a musician it is always going to be more for 'fun' because the more serious you get about playing a game of any sport, I feel the more dangerous it is for a musician – our hands are our life and we need to protect them with our life.
Name 4 of your favourite things to do to chill out/have fun: Driving, Gardening, playing the piano, a nice beer with good friends.
What's your idea of fashion/what do you prefer to wear? My idea of fashion is simple…wear whatever you want if you can make it look good on you and if you've thought about it. Also, it doesn't matter whether it's cheap or expensive, if you can make it look good I think that's awesome. I do not understand people who do not take care of their appearance and how they come across to other people. I like to wear clothes that would be more on the 'formal' side for most people (especially in Germany because the people here just wear whatever that is most practical) like a crisp collared shirt or a polo with tailored pants/chinos, paired with some nice dress boots or loafers.
What car do you drive (give a description of it)? do you have a current drivers licence? In Sydney, I drive a Honda Fit which I love and care for dearly. I imported her from Japan, and I do have a driving license…I find it is quite hard to get around in Sydney without a car. I miss driving as I do not own a car here in Germany.
How do you relax and unwind from rehearsing? Most of my days are packed from morning to night here so it's rare that I have time to relax and unwind but when I do, I like to clean my room (this surprisingly relaxes me – a messy room makes me stressed), just sit at my computer and watch short YouTube videos, read a book, chat with my friends online or just simply take a nap, go to bed!
How do you care for your back etc. (to stop injuries etc)? This is an interesting question! I do tend to get lower back pain after a day's worth of practising but it is not something that happens every day. When it does happen, I feel it helps just to lie down and let your back relax into the bed or on the floor when you get home, and let the tension dissipate, then it usually gets better within 10-15 minutes. But to avoid this I try to take breaks and stretch my back every hour or so, or when it feels right to do so. I have also had experience with an injury myself and know many colleagues and friends who have gone through a tough time in their efforts to recover. Therefore, I am quite cautious when it comes to pain whether it be in the back, arms, hands, or fingers. I believe injury in musicians is something that needs to be taken more seriously in the music community.
Do you love the movies? I really don't watch many movies or go to the cinemas very often, I find they are too long and take too much time out of my day, however there are some exceptions are Blade Runner 2049 and Call Me by Your Name which are both fantastic movies released recently! I prefer to watch short YouTube videos which are usually related to my hobbies like perfumes, planes, cars.
List at least three bars / favourite spaces to hang out in Australia and why? I rarely visited bars in Australia so I cannot answer this side of the question but in terms of other favourite places, I like to go to the Boathouse in Palm Beach, Balmoral Beach or Shelly Beach in Sydney. It is a restaurant that is set on the beach and when the weather is right it is the perfect place for brunch/lunch then you can go for a refreshing dip in the water straight after. This second 'place' has no specific location but sometimes I find it is very interesting to just drive around without a destination in mind and just let the flow take you somewhere. I found that even in areas that I thought I knew very well, there were some nice parks, lookouts and just 'spots' in general that I could stop by, relax and hang out. Lastly the Sydney Conservatorium is usually a nice place to hang out because there are usually friends there and you can also walk out to the Botanic Gardens and have lunch, look at the flowers and enjoy the sun.
What is your favourite alcoholic drink? Since coming to Germany I must admit I am drinking a lot more beer than I did in Sydney... I believe this is because of two reasons; 1- the beer here in Germany seems to please my taste buds more than in Australia and 2- Most of the time beer is cheaper than bottled water here! But right now, I am enjoying the "Radler" which is a mix of good German beer and lemonade/ginger ale. I find it quite refreshing after a long day of rehearsing and practising.
Favourite meal / food / fruit and why? To be honest, I would happily eat anything and I don't have any dislikes, but what I find the most special is homemade food that is cooked from the heart, especially for me. Anything will taste amazing to me if it has been cooked like this. The reason for this is because I cook for myself all the time so when someone cooks for me it makes me happy!
Do you compose your own music? Again, I used to compose a lot during high school, probably one piece every couple of months, with some highlights being the first ever piece I composed winning the best "stylistic paraphrase" prize in the Conservatorium High School Composers Day 2007, winning the Australian section of the Sydney Eisteddfod with my piece for piano - "Klaviawesomisticca" in 2010 and my HSC composition "water, solid, gas" being nominated for Encore 2012. Right now I rarely have the time to compose but, I very much enjoy improvising using extended techniques and will be going to Italy at the end of this month to perform and take some improvisation classes which I am really looking forward to!
What do you hope to get out of this Australian National Piano Award? I hope get more performance experience, exceed my current limits and capabilities, and enjoy the event.
How long have you been rehearsing for this event? It's hard to say since when because I think everything I have done up to now since I started learning this piano is also part of the preparation towards this event.
How did you hear about the Australian National Piano Award? I had known about the award for several years before I was eligible for it and last competition I was not available but I heard about it from teachers at the Sydney Conservatorium and students that were older than me who were participating in the award.
https://www.youtube.com/user/Robbledinooo
https://www.youtube.com/watch?v=XcJzvereWx8