Europe has a very rich history and culture in classical music, and travelling in general has definitely opened my eyes to so many different cultures and lifestyles; from small towns in Italy that enjoy a simple but content life, to big capital cities such as Vienna with impressive grand and elegant architecture, and where there is so much happening all the time, especially in classical music.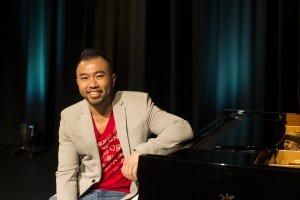 Are you a full-time professional musician? Nope, I'm a dentist
What drew you to become a musician? I grew up in a musical household and began private lessons at an early age with my mum. As I matured, I became drawn to the way in which music can express such deep and intricate human expressions and insights, and became inspired to explore this art much further.
Do you sometimes perform in an ensemble? I play in a contemporary style worship band in at the English Service in my Church (Melbourne Chinese Baptist Church, MCBC), which I attend on Sunday mornings, and also play with the church choir there in the Cantonese Service. I also play in the worship band at BSF (Bible Study Fellowship) Young Adults in Melbourne. BSF is a worldwide organisation and has a Young Adults group of about 150 people that meet up every Monday night, and our band plays contemporary Christian music, in which a lot is based on improvisation and going with the feel of each other in the band, as well as of the congregation. Other than that I sometimes play the violin in a string quartet, where we play for people's weddings.
What is so special about the piano and its music? The piano is perhaps the most versatile instrument in its range of sound, and through this is able to express so many different colours, textures and harmonies. It can be sternly percussive and clinical, but can also be warm and rich in tone. Even within classical music, pieces from different style periods written for piano can sound so vastly different. As performers, we continuously strive to master the quality of sound we create, producing different textures to evoke various expressions, moods and insights.
What else can you play? I also play the violin. Playing another instrument helps to broaden your understanding of music. The violin for example, whilst individual notes can have a much longer sound and warmer sound with lush vibrato which the piano cannot produce, the violin is also much more limited in its range of pitch and colours from different harmonies, compared to the piano which probably has the greatest range in this respect. Playing the violin also lends itself to playing with other musicians, often either with another pianist, or often as part of a chamber group, and this also enriches your understanding and appreciation of music.
Do you sing? Occasional I sing in an acappella group where we do arrangements of pop music.
What are your hobbies and why are you passionate about them?
I enjoy keeping an active lifestyle and regularly go to the gym. I'm a big tennis fan as well; had some lessons as a kid, and grew up in Melbourne with the Australian Open in the summer every year. I've recently gone indoor rock-climbing a few times and am becoming hooked onto that! Otherwise, music in general plays a big part of my life; learning and discovering different styles, improvising as when I with play in a band.
Do you do a lot of travel? Where have you been overseas in the past few years? Being a classical pianist takes you to many countries around the world and so travel becomes a big part of the career. I have been invited into many international piano competitions and concerts which have taken me to many countries in Europe as well the US.
What are your goals over the next two years? As a classical pianist, I would love to further my performing career to share my thoughts and insights in the music I play with the rest of the world over the next few years, and long-term also. Music is a very flexible career path such that we often go from one opportunity to the next, so it's hard to set concrete goals, but rather it's more about taking opportunities as they arise and see what they present.
Who inspires you and why? I find true masters of their craft very inspiring in the purity of their passion for their art/craft. And it is through this pure and untainted passion for their craft that allows them uniquely inspire people through what they do. For example, Roger Federer has been such a long-standing tennis champion, only recently winning yet another grand slam. He truly enjoys tennis for the game itself, and his playing style is natural and elegant and not forced in any way. Watching him play is a bit like appreciating art. Similarly Elon Musk genuinely enjoys his work in advancing technology and engineering, for the work itself, and seeing his passion for this is very inspiring to see.
Which musician inspires you and why? Of so many great pianists, currently I'm probably most inspired by Mitsuko Uchida. She has such a natural style in her playing, with much elegant flair and finesse. Her famous interpretations of Mozart in particular so aptly portrays the pure, innocent and operatic spirit of Mozart, and quite clearly also comes from deep within herself. In this age, a lot of classical music (and music in general) revolves around experimenting with new complex unusual harmonies and colours often with showy virtuosity, and whilst this is exciting in itself in the possibilities of what new types of music arise, listening to her Mozart recordings really is most enlightening and really speaks music in its pure essence.
Which composer's music do you love and why? So many(!) But recently I've been really inspired by the music of Dmitri Shostakovich. His music is so genuine, expressing that which is truly his, and also taps into such deep human thoughts and experiences; from pure and inspiring beauty, to such heavy soul-wrenching horrors of that which is capable in human sinful nature (eg. His music dedicated to the holocaust prisoners in WWII). He explores many very interesting more modern and non-traditional harmonies, yet his music remains very pure, with very clear lines, and has a very clear structure and direction. For me personally, I really connect with his music; it just 'makes sense'.
Do you play sports? I used to swim in the mornings in high school and played tennis quite a bit. Nowadays I'm a bit of a gym junkie, and do some sports every now and then. More recently I've done indoor rock-climbing a few times and am getting pretty into that.
Name 4 of your favourite things to do to chill out/have fun: Good conversation, connecting with people, Gym (or rock-climbing these days), Listening to music. Learning about different things or ideas, documentaries, YouTube, (or just watching silly videos)
What's your idea of fashion/what do you prefer to wear? Without being so aware of it, it's an extension of what you feel inside. Generally I like my clothing to be well-fitted and is probably fairly classic in style, but with a bit that is unusual or stands out, showing some individuality and personality without being over the top.
What car do you drive? I drive a Honda Civic (2016 model, 'Modern Steel Metallic' colour)
How do you relax and unwind from rehearsing? By doing something else. I think it's more about mentally taking a break from music than physically. Sometimes it can be hard to stop thinking about the music you're playing, which can be good when you're semi-subconsciously coming up with new ideas, but sometimes you really do need a break from a piece mentally for it to mature.
How do you care for your back etc. (to stop injuries etc)? By keeping good posture in your back and in your technique in your hands, and taking regular breaks. Good piano technique in your hands and fingers in particular is very important especially for young musicians to develop good habits which can otherwise cause quite serious problems later in life.
Do you love the movies? Yes if the content is intellectually or psychologically interesting and stimulating, or simply a good laugh I always like too. Otherwise I'm not really a big movie buff.
List at least three bars / favourite spaces to hang out in Australia and why? I'm a night-owl, so I've become a regular at Pancake Parlour (open 24/7 lol) and often get carried away hanging out with my mates well into the night. As a typical Melbournian, born and bred, I like a good (hipster) cafe, and often hang out in cafes in Hawthorn on Glenferrie Rd. I'm known for having tried many cafes versions a big breakfast, many of which add different and unusual elements, though I particularly like the one at 'Cafe Blac' where I've been going to for years; it has very a good balance of most of the classic elements you would have in a big breakfast, but is always high quality produce, and well put together. Their upstairs area has a unique artistic array of books that make up the ceiling. For coffee and general good brunch, 'Liar Liar' and 'Axil' are great as well.
What is your favourite alcoholic drink? I don't drink much, but if I had to pick it'd be a Manhattan.
Favourite meal / food / fruit and why? Hard to pick one, especially since I like variety, but generally I like a meal/dish that has a good variety and balance of flavours and textures (like many good and well thought-out brunch dishes). I like a hearty meal, like a good steak or burger with chips and salad, but also like the purity of high quality sushi and sashimi. And sweets I like anything rich with chocolate or coffee.
Do you compose your own music? Composing not so much, but I've done arrangements for pop songs for acappella group. Sometimes it'll sound very similar to the song, but sometimes it's fun experimenting with different harmonies for the tune, or even a completely different feel for a song, like an acoustic version of an otherwise mainstream pop song.
What do you hope to get out of this Australian National Piano Award? I'm really looking forward to meeting the other pianists and sharing out ideas and experiences as classical pianists, and also connecting with all the people and organisers that make this event possible, as well as the local people coming to hear our performances. It'll be a great experience to share my musical ideas with the audience in our concerts, and to get their feedback in their experience of the concerts. The Australian National Piano Award is also a great platform in furthering our performing careers and I definitely hope to engage in more performing opportunities through the event.
How long have you been rehearsing for this event? One could say since I started studying the piano; it's hard to put a definite timeline, since, for me at least, the repertoire I'll be performing at the Award is the expression of an accumulation of my experiences and musical understanding and discovery over a long period of time. My preparation started more seriously since I found out I've been selected as a finalist in May, but the essence and core of the music itself, which makes the music, is perhaps the real preparation for the performances.
How did you hear about the Australian National Piano Award? From my teacher Mikhail Solovei. I was in it in 2016 – fantastic event