BERTA Brozgul's selection to compete in a prestigious competition was music to her ears.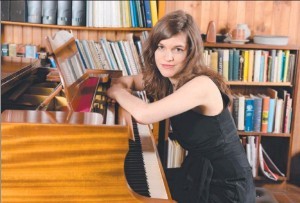 The 24-year-old from Belgrave was chosen to compete in the well-known classical piano competition, The Australian National Piano Award.
Brozgul will compete against 12 of the best young pianists at the Shepparton competition from September 8-13. The South African-born musician graduated from the Mozarteum in Salzburg, Austria, where she is completing her masters in performance.
She has been rehearsing for the competition for more than four months. And a lot is on the line, with a $20,000 prize up for grabs. "We've always had music in our home, and it was something I was always very drawn to," Brozgul said.
"At the age of eight, I asked my mother to start teaching me, and I soon fell in love with it. Brozgul said she always knew the piano was her calling in life, and hopes to continue performing, while teaching music on the side.
"You learn a lot from teaching," she said. "I love performing and making music, especially with something like piano, there are no limits to what you can do or develop. "There are always new challenges."
Free Press Leader, 27 Aug 2014